Aprire un conto WebMoney
Aprire un conto da Webmoney è facile, se non hai già uno. Fai clic su questo collegamento per aprirne uno.
Appena hai registrato e finanziato il tuo conto WebMoney, potrai immediatamente versare i depositi nel tuo conto EuroKingClub ed iniziare a giocare immediatamente!
If you need additional help, click here to access the Help Desk page on their website.
Per l'assistenza tecnica via e-mail puoi rivolgerti al nostro team di assistenza: support@wmtransfer.com.
You can also contact the WebMoney technical support call center. You can find this on their Contact page on their site.
Trova qui di seguito l'elenco dei numeri internazionali del call center.
+7 (495) 727-43-33 – Moscow.

+7 (812) 336-43-18 – St. Petersburg.

+1 (212) 202-66-06 – United States.

+44(203) 239-60-39 -UK.
Istruzioni
Start by going to //www.wmtransfer.com and select your desired language from the top right hand corner. Once you are ready press the "Sign Up Now" button.

Ci sono quattro fasi per aprire un conto WebMoney e la prima consiste nell'inserimento e la convalida dei tuoi dati personali.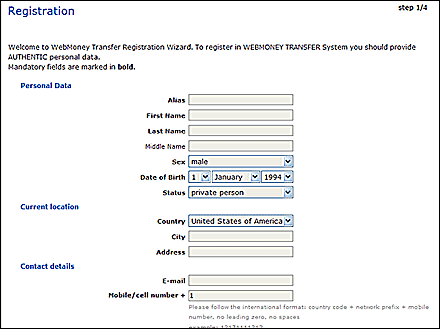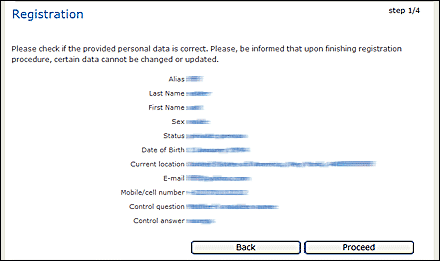 Ti preghiamo di notare che i dati per continuare con la registrazione devono essere corretti.
Nella seconda fase devi inserire il codice di convalida, inviato all'indirizzo e-mail che hai indicato tra i tuoi dati personali. Appena il codice verrà convalidato, sarai indirizzato alla pagina di verificazione del tuo numero di telefono cellulare.

This page contains instructions for sending an SMS from your phone for Mobile/cell verification.
Please wait for confirmation to proceed.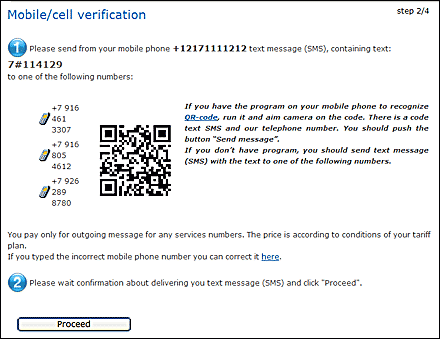 Dopo aver ricevuto il tuo SMS, ti spediremo un messaggio di conferma.
Appena ricevi la conferma, fai clic su "Procedi" per creare il conto e terminare il processo di registrazione.
Availability depends on your country