Depositare con Paysafecard
Paysafecard ti consente di versare depositi nel tuo conto EuroKingClub, in qualsiasi momento. Il sistema è sicuro, facile, ed anonimo. Non hai bisogno di un conto corrente bancario o una carta di credito. Scegliendo Paysafecard avrai scelto il sistema più sicuro e semplice disponibili sul mercato: perchè le Paysafecard sono carte prepagate ricaricabili.
Se il totale del versamento supera il credito residuo della tua carta, puoi pagare l'addebito rimanente utilizzando la PaysafeCard successiva. Per un versamento, è possibile abbinare fino a dieci paysafecard così puoi sempre utilizzare una carta PaysafeCard con credito residuo.
If the grand total of your payments exceeds your card credit, you can easily pay the remaining debit using the next Paysafecard. For a single payment, you can combine up to ten Paysafecard which allows you to use up a residual credit on your current Paysafecard.
Usare Paysafecard è semplice come usare contanti.
Non è necessario possedere un conto bancario o una carta di credito perché la Paysafecard è un voucher prepagato che puoi comprare in negozi vicini a te ed utilizzarlo per il pagamento online su internet.
È facile come dire 1-2-3!
To find out more about Paysafecard please visit www.paysafecard.com/pos. The site has multiple languages to choose from.
Per versare un deposito utilizzando le paysafecard è necessario selezionare paysafecard dalle opzioni di pagamento, immettere l'importo in euro e il codice del bonus (se ne possiedi uno).
Sarai quindi reindirizzato al sito web di Paysafecard, dove dovrai immettere il PIN della tua Paysafecard. È davvero semplice, guarda la schermata qui di seguito: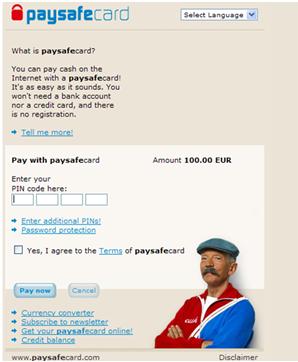 Availability depends on your country