Bir WebMoney hesabı açmak
Eğer yoksa bir WebMoney hesabı açmak çok kolaydır. Bir hesap açmak için sadece this link'e tıklamanız yeterlidir.
Bir kere kayıt yaptırıp WebMoney'e para yatırdığınızda, anlık olarak EuroKing Casino hesabınıza para aktarmak ve oynamaya başlamak imkanına sahip olacaksınız!
If you need additional help, click here to access the Help Desk page on their website.
E-mail yoluyla teknik destek için, support@wmtransfer.com adresinden Destek Timimiz ile irtibata geçiniz.
You can also contact the WebMoney technical support call center. You can find this on their Contact page on their site.
Aşağıda uluslar arası teknik destek çağrı merkezi numaraları listesini bulabilirsiniz.
+7 (495) 727-43-33 – Moscow.

+7 (812) 336-43-18 – St. Petersburg.

+1 (212) 202-66-06 – United States.

+44(203) 239-60-39 -UK.
Talimatlar
Start by going to //www.wmtransfer.com and select your desired language from the top right hand corner. Once you are ready press the "Sign Up Now" button.

WebMoney hesabınıza ulaşmak 4 basamakta mümkündür ve bunların ilki kişisel bilgilerinizin girilmesi ve doğrulanmasıdır.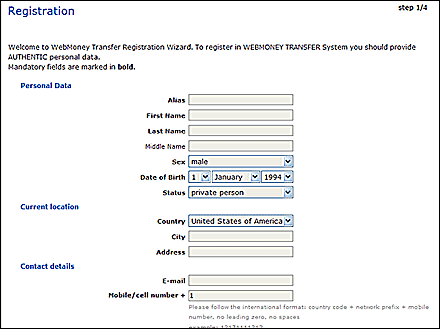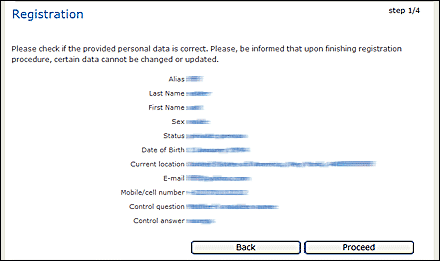 Sonraki adımlar için girilecek bilgilerin doğru olması gereklidir.
İkinci basamak kişisel bilgileriniz içersinde bildirdiğiniz kişisel E-mail adresinize gönderişmiş olan Kayıt Kodu'nun girilmesidir. Kod doğrulanır doğrulanmaz Cep Telefonu doğrulama sayfasına yönlendirileceksiniz.

This page contains instructions for sending an SMS from your phone for Mobile/cell verification.
Please wait for confirmation to proceed.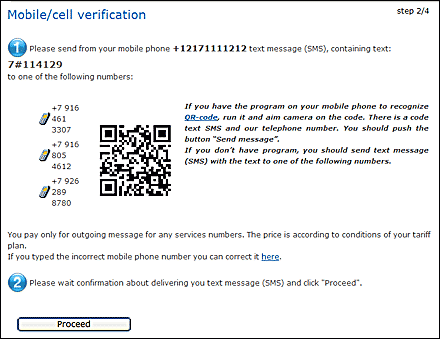 SMS'i aldığımızda size bir teyit mesajı göndereceğiz.
Teyit mesajını aldığınızda, lütfen hesabınız yaratmak ve kayıt işlemini tamamlamak için "Proceed" e tıklayınız.
Availability depends on your country