Paysafecard ile Depozito Yüklemek
Paysafecard EuroKing Casino hesabınıza istediğiniz zaman para aktarmanızı sağlayan bir yöntemdir. Güvenli, kolay ve benzersizdir. Paysafecard'lar benzin istasyonları, gazete bayileri, elektronik eşya mağazaları, Postaneler, kitapçılar, bankalar ve buna benzer pek çok yerden temin edilebilir.
Hızlı, kolay ve emniyetlidir. Bir kredi kartına veya banka hesabına ihtiyacınız yok. Paysafecard'ı seçerek en emniyetli, basit çözüme kavuşacaksınız, çünkü bu kart bir ön-ödemeli kart ve internet'te kullanıma imkan veriyor. Paysafecard'lar 10, 25, 50 ve 100 AVRO'luk değerlerde satılmaktadır.
Eğer büyük çaplı bir ödeme yapacaksanız ve kartınızın kredisi buna yetmiyor ise bir sonraki Paysafecard'ınızı kullanarak kalan kısmı ödeyebilirsiniz. Tek bir ödeme için 10 adet Paysafecard'a kadar birleştirebilir ve hesabınızda tek bir kuruş kalmayana kadar tüm kredinizi kullanabilirsiniz.
Paysafecard nakit kullanmak kadar basittir. Bir banka hesabınızın veya kredi kartınızın olması gerekmez. Paysafecard'ın ön-ödemeli bir çek olarak her yerden kolayca temin edilebilmesi ve internet'te kullanımın da mümkün olması onun ne kadar cazip bir ödeme şekli olduğunun göstergesidir.
1-2-3 demek kadar kolay!
To find out more about Paysafecard please visit www.paysafecard.com/pos. The site has multiple languages to choose from.
Paysafecard ile depozito yükleyebilmek için ödeme opsiyonlarından Paysafecard opsiyonunu seçmeniz gerekir, sonra Avro cinsinden depozito miktarınızı ve (varsa) bonus kodunuzu girmelisiniz.
Sonra kartın üzerinde yazılı PIN kodunu girmeniz gerekecek olan Paysafecard sitesine yönlendirileceksiniz. Bu çok basit bir işlemdir-aşağıdaki ekran görüntüsüne bakınız: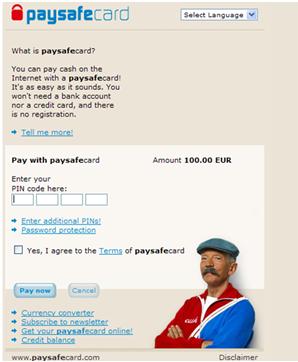 Availability depends on your country