Komisyoncu Hesabı Açmak
Komisyoncular çabuk ve güvenilir çevrim içi portföy sahipleridir. Oyuncular bir hesabı açabilir, ve bu hesaba banka hesaplarından veya kredi/nakit kartı hesaplarından yükleme yapabilirler.
Biz Komisyoncuların EuroKing Casino oyuncuları nezdinde güvenilir çevrim içi ödeme seçeneği olarak değerlendirilmesini tavsiye ediyoruz. Hızlıdır, ve dakikalar içinde EuroKing Casino'daki rakiplerinize anında meydan okumanıza imkan sağlar!
It is very easy to open an account with Moneybookers. Just click this link to open one and select "Sign up now".
Lütfen onların pek çok farklı dilde siteye da sahip olduğunu da göz ardı etmeyiniz.
For English please select this link.
For Greek please select this link.
We have created a step by step guide to open a Moneybookers account if you need the extra help. Please click here.
Bir kez Komisyoncu Hesabınıza kayıt yaptırıp yükleme yaptıktan sonra, anlık olarak EuroKing Casino.com hesabınıza depozito aktarmak ve hemen oynamaya başlamak imkanına sahip olacaksınız.
If you need help with depositing then you can access their FAQ's (Frequently Asked Questions) and then select "Deposit".
Komisyoncular bir Müşteri Çağrı Merkezi numarasına da sahipler: +44 870 383 0232
Ayrıca çok ta kullanışlı olan bir çevrim içi mesajlaşma servisine de sahipler.
Komisyonculardan minimum nakit depozito çekim miktarı 20$ 'dır; gerçekten de sınırlama tabi bir miktar söz konusu değildir aslında!
Casinomuzda Moneybookers hesabınızla depozito yapmanız veya para çekmeniz halinde her hangi bir işlem ücreti alınmaz.
Talimatlar
Komisyoncuda hesap açmak sadece çok basit dört adımda mümkündür. www.moneybookers.com/app/ adresine gitmekle ve www.moneybookers.com/app/ "Sign up now" butonunu seçmekle işe başlayın.
Hesap Tipi
E-mail doğrulama
Personal details
Onaylama
Kimliğinizden emin olabilmek için Komisyoncular aşağıdaki bilgileri talep etmektedir.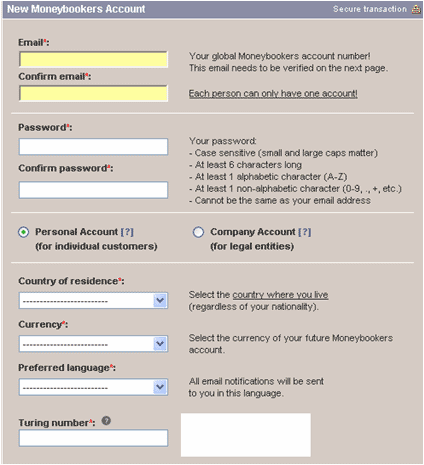 Bu sayfayı tamamladığınızda bir link adresi içeren bir doğrulama e-mail'i E-mail adresinize gönderilecek.
E-mail'inizi kontrol edin ve sadece gönderilen link adresine tıklayarak kayıt işlemine devam edin.
Sonra, detaylı kişisel bilgilerinizi doldurun.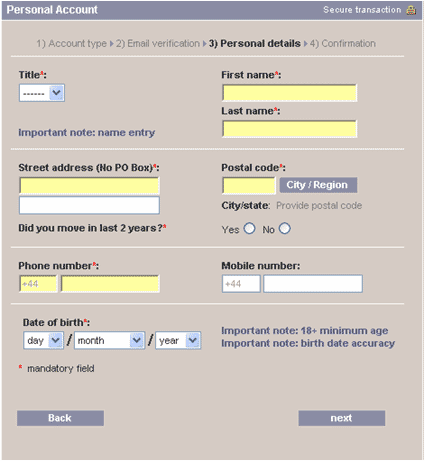 Sonra, detaylı kişisel bilgilerinizi doldurun.
Sonra kişisel detaylarına ilişkin bir doğrulama gönderisi alacaksınız.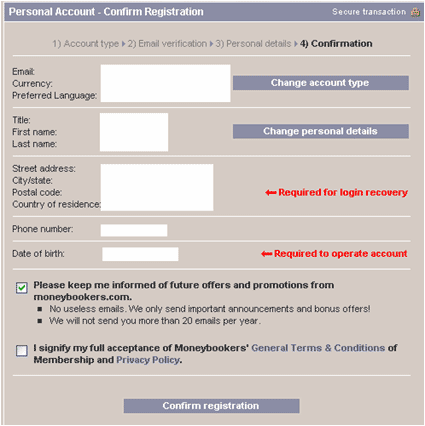 General Terms and Conditions kutusunu seçerek kurallar ve şartları kabul ettiğini onayla ve "Confirm Registration" a tıklayarak işlemi tamamla. Artık Komisyoncu Hesabını açma işlemini tamamlamış durumdasın.
Availability depends on your country