Crearea unui cont WebMoney
În cazul în care nu aveți un cont WebMoney, este foarte ușor să deschideţi unul. Accesați acest link, pentru a deschide unul.
După ce v-ați înregistrat și v-ați alimentat contul dumneavoastră WebMoney, veţi putea să depuneți instant în contul dumneavoastră EuroKing Casino şi să începeţi să vă jucaţi imediat!
If you need additional help, click here to access the Help Desk page on their website.
Pentru suport tehnic prin intermediul email-ului, vă rugăm să vă adresati Echipei Suport WebMoney, având adresa de email support@wmtransfer.com.
You can also contact the WebMoney technical support call center. You can find this on their Contact page on their site.
Veți găsi mai jos, o listă ce conține numerele internaţionale pentru suportul tehnic:
+7 (495) 727-43-33 – Moscow.

+7 (812) 336-43-18 – St. Petersburg.

+1 (212) 202-66-06 – United States.

+44(203) 239-60-39 -UK.
Instrucţiuni
Start by going to //www.wmtransfer.com and select your desired language from the top right hand corner. Once you are ready press the "Sign Up Now" button.

Există 4 etape pentru a vă deschide un cont la WebMoney, iar prima etapă constă în introducea și confirmarea informaţiile dumneavoastră personale.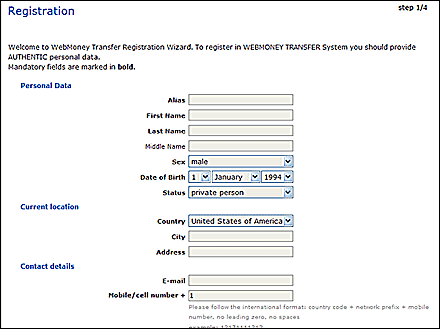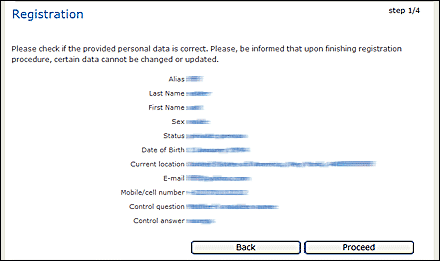 Notați faptul că pentru a continua, toate informațiile trebuie să fie corecte!
A doua etapă constă în introducerea codul de înregistrare care a fost trimis la adresa dumneavoastră de e-mail, specificată în informaţiile dumneavoastră personale. Odată ce codul este verificat, veţi fi redirecţionat la pagina de verificare Mobile/celulare.

This page contains instructions for sending an SMS from your phone for Mobile/cell verification.
Please wait for confirmation to proceed.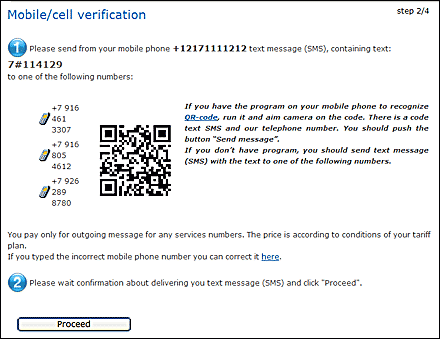 După primirea SMS-ului, noi vă vom trimite un mesaj de confirmare.
După ce aţi primit confirmarea, vă rugăm să apăsați butonul "Proceed", pentru a vă creea contul și pentru a finaliza procesul de înregistrare.
Availability depends on your country