Depunerea prin intermediul metodei Paysafecard
Paysafecard vă permite să depuneți în contul EuroKing Casino, oricând. Este sigur, ușor și anonim. Cardurile Paysafe sunt disponibile în multe locuri: stații de petrol, chioșchiuri de ziare, stații de benzină, magazine electronice, oficii poștale, librării, bănci, etc.
Este o metodă de plată rapidă, ușoară și sigură. Nu aveți nevoie de card, ori cont bancar. Alegând cardul Paysafe, ați ales metoda cea mai sigură și cea mai simplă, deoarece cardul Paysafe este un card preplatit (prepaid card), care vă permite plata online. Cardul Paysafe poate fi achiziționat la valorile de: 10 euro, 25 euro, 50 euro și 100 euro.
Dacă totalul plăților dumneavoastră depășește creditul cardului, veți putea să plătiți debitul rămas utilizând Paysafecard. Pentru o singură plată, veți putea combina pană la 10 carduri Paysafecard, ceea ce vă permite utilizarea cardului rezidual pentru cardul curent Paysafecard.
Folosind Paysafecard, nu veți mai avea nevoie de cont bancar sau card de credit:
Paysafecard este un bon cadou preplătit, care poate fi cumpărat din magazinele locale, și poate fi folosit pentru plățile online.
Este ca și cum ai număra pâna la 3: 1-2-3!
To find out more about Paysafecard please visit //www.paysafecard.com/pos. The site has multiple languages to choose from.
Pentru a depune prin intermediul cardului Paysafecard, va trebui să alegeți opțiunea Paysafecard (din multitudinea de opțiuni de plată); apoi trebuie să introduceți suma pe care doriți să o depuneți în Euro, și codul de bonus (opțional).
Veți fi redirecționat către siteul Paysafecard, unde va trebui să introduceți PIN-ul cardului Paysafecard. Acest lucru este prezentat în screenshotul de mai jos: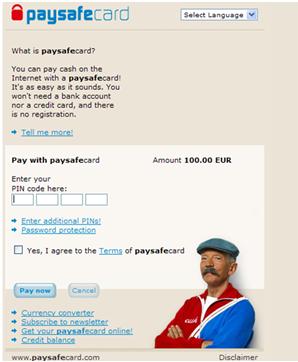 Availability depends on your country