Deschiderea unui cont la Moneybookers
Moneybookers este o metodă online, rapidă şi sigură. Jucătorii pot deschide un cont, şi să-l alimenteze prin transfer bancar sau de credit/debit card.
Fiind un jucător la EuroKing Casino, vă recomandăm să utilizaţi Moneybookers pentru încrederea plăţilor online. Este instant, astfel încât vă puteţi provoca prietenii la EuroKing Casino doar în câteva minute!
It is very easy to open an account with Moneybookers. Just click this link to open one and select "Sign up now".
Notă! Site-ul MoneyBookers este tradus în mai multe Limbi.
For English please select this link.
For Greek please select this link.
We have created a step by step guide to open a Moneybookers account if you need the extra help. Please click here.
Odată ce aţi deschis şi ați alimentat contul de la Moneybookers, veţi putea să depozitaţi instant în contul dumneavoastră de la eurokingclub.com şi să începeţi jocul imediat.
If you need help with depositing then you can access their FAQ's (Frequently Asked Questions) and then select "Deposit".
Cei de la Moneybookers au şi un Customer Call Center: +44 870 383 0232
Totodată, ei oferă şi un serviciu de online messaging care este, de asemenea, util.
Suma minimă pentru un a depune cu Moneybookers este de 20$; pentru retrageri, nu există nici o sumă limită.
La cazinoul nostru nu se percep nici un fel de taxe sau comisioane atunci când depui sau retragi prin Moneybookers.
Instrucţiuni
Pentru a deschide un cont la Moneybookers, este nevoie de doar patru paşi foarte uşori. Începeți accesând pagina www.moneybookers.com/app/ şi selectând "Sign Up Now".
Tipul Contului
Verificarea e-mail-ului
Personal details
Confirmarea
Moneybookers solicită următoarele informaţii pentru a vă asigura identitatea.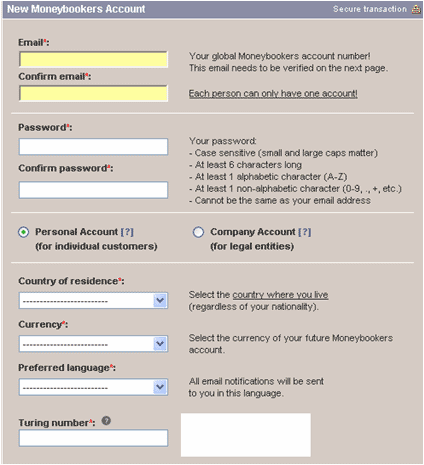 Odată ce aţi completat această pagină, un e-mail de verificare (conţinând un link) va fi trimis la adresa dumneavoastră de e-mail.
Verificaţi-vă e-mail-ul, dați click pe link-ul pentru verificarea adresei de e-mail şi apoi continuaţi cu procesul de înregistrare.
Apoi completaţi-vă detaliile personale.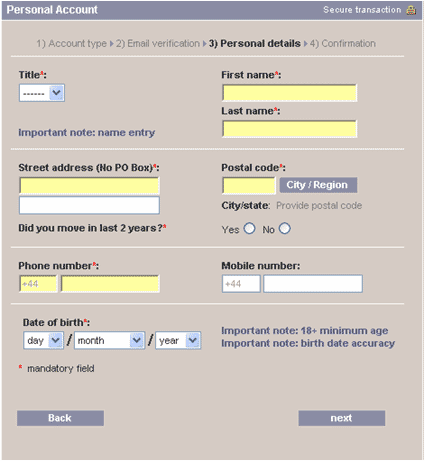 Odată ce aţi completati câmpurile cu detaliile dumneavoastră, apăsați butonul pentru pasul următor (butonul "Next").
Veţi primi o confirmare a detaliilor dumneavoastră.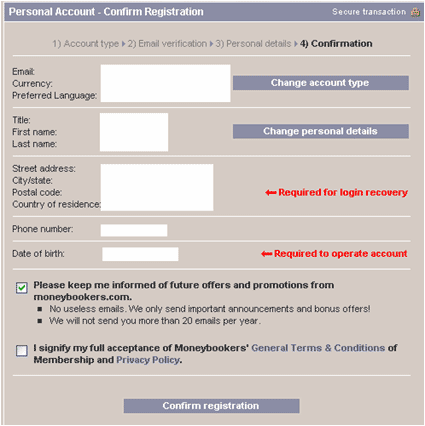 Acceptați Termenele şi Condiţiile Generale, şi apăsați butonul de confirmare a înregistrării (butonul "Confirm Registration"). Aţi finalizat cu succes procesul de deschidere al unui cont, la Moneybookers.
Availability depends on your country