Instrucciones para depositar con Paysafecard
Paysafecard le permite hacer depósitos en su cuenta de EuroKing Casino en cualquier momento. Es seguro, fácil y anónimo. Paysafecards están disponibles en muchos lugares, estaciones de vencina, kioscos, tiendas electrónicas, oficina de correos, librerías, bancos y otros lugares.
Es rápido, fácil y seguro. No necesitara una tarjeta de credito o cuenta de banco. Al elegir paysafecard estará eligiendo la opción más rápida y simple del mercado: esto es debido a que paysafecard es una tarjeta de prepago que puede ser usada en línea. Paysafecard puede ser encontrada en los siguientes valores: 10,25, 50 y 100 Euros.
Si el total de su pago exede el crédito de su tarjeta, usted podrá fácilmente usar su próxima tarjeta paysafecard. En un pago se pueden combinar hasta 10 paysafecards lo que le permitirá usar créditos restantes de su paysafecard actual.
Paysafecard es tan simple de usar como el dinero en efectivo. No necesitara una cuenta de banco o tarjeta de crédito:
esto es debido a que paysafecard es un vale de prepago que usted puede comprar en cualquier tienda y usarlo en transacciones en línea.
¡Es tan fácil como 1-2-3!
To find out more about Paysafecard please visit //www.paysafecard.com/pos. The site has multiple languages to choose from.
Para hacer un depósito usando su paysafecard, usted necesitara seleccionar paysafecard en las opciones de pago, entre la cantidad en euros y el código de bono (si tiene uno).
Despues será re-dirigido a la página del sitio de paysafecard donde necesitara entrar el código PIN individual de su paysafecard. Esto es simple – ver abajo por favor la captura de pantalla: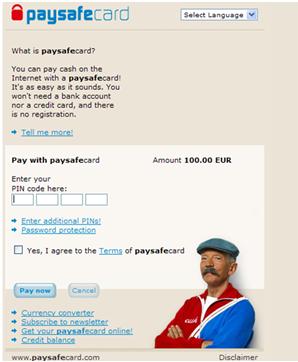 Availability depends on your country