Abriendo una Cuenta de Moneybookers
Moneybookers es un servicio de portafolio en línea rápido y de confianza. Los jugadores pueden abrir una cuenta y financiarla via transferencia bancaria o tarjeta de crédito/ tarjeta de debito.
Recomendamos Moneybookers debido a que es el método preferido de los jugadores de EuroKing Casino, con pagos en línea seguros y confiables. Podrá desafiar a su amigo a un juego de casino en unos pocos minutos.
It is very easy to open an account with Moneybookers. Just click this link to open one and select "Sign up now".
Nótese que el sitio esta es diferentes idiomas.
For English please select this link.
For Greek please select this link.
We have created a step by step guide to open a Moneybookers account if you need the extra help. Please click here.
Una vez que ha registrado y financiado su cuenta de Moneybookers, usted podrá depositar instantáneamente en eurokingclub.com y podrá comenzar ha jugar inmediatamente.
If you need help with depositing then you can access their FAQ's (Frequently Asked Questions) and then select "Deposit".
Moneybookers tiene un Centro de llamadas para los Clientes: +44 870 383 0232 y además tienen un servicio de mensaje en línea muy útil.
¡El depósito mínimo con Moneybookers es de $20, y no hay restricciones en los retiros!
Cuando se utilice Moneybookers para hacer un depósito o retirada de nuestro casino, no hay tasa
Instrucciones
Abrir una cuenta con Moneybookers es muy fácil. Diríjase a www.moneybookers.com/app/ y seleccione "Sign up now".
Tipo de Cuenta
Verificación del correo electrónico
Personal details
Confirmación
Moneybookers necesita la siguiente información para confirmar su identidad.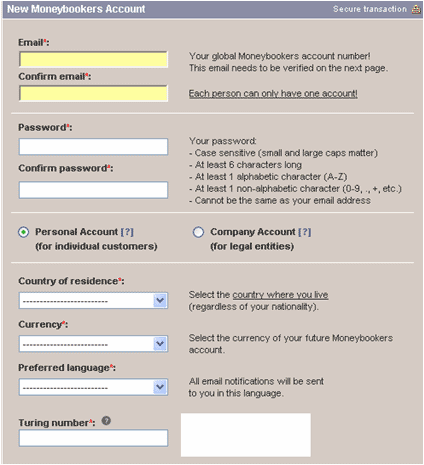 Una vez que ha completado esta página un correo de verificación que contendrá un enlace será enviado a su correo electrónico.
Mire su correo electrónico y simplemente haga un clic en el enlace el cual verificara su correo electrónico y entonces podrá continuar con el proceso de registro.
Después entre sus detalles personales.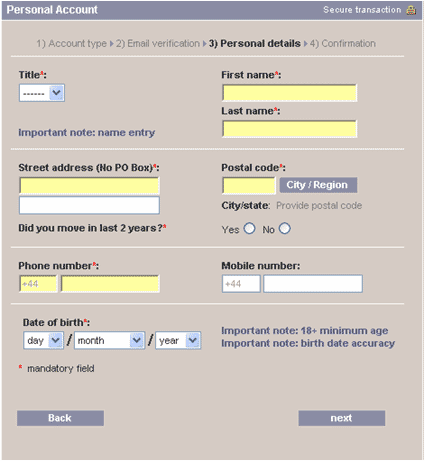 Una vez que ha llenado sus detalles haga un clic en "NEXT".
Recibirá confirmación de sus detalles.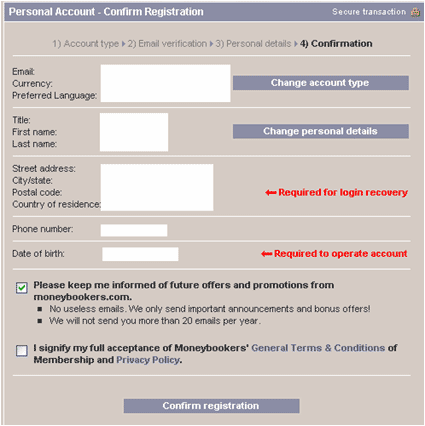 Seleccione la caja aceptando los Términos y Condiciones Generales y haga un Clic en "Confirm Registration". Usted ha abierto exitosamente una cuenta de Moneybookers.
Availability depends on your country