Depozit preko Paysafecard-a
Paysafecard Vam omogućuje da uplaćujete na svoj EuroKing Casino račun u bilo koje vrijeme. Sigurno je, jednostavno i anonimno. Paysafecard je dostupan na raznim mjestima benzinskim crpkama, novinskim kioscima, elektroničkim trgovinama, poštama, knjižarama, bankama i drugdje.
Brzo je, jednostavno i sigurno. Ne trebate kreditnu karticu ili bankovni račun. Odabirom Paysafecard dobit ćete najsigurnije i najednostavnije riješenje: zato jer je Paysafecard kartica kartica na bonove koja Vam omogućuje plaćanje na internetu. Paysafecard karticu možete kupiti u vrijednosti od 25 50 i 100 eura.
Ako ukupna suma Vaših plaćanja premašuje Vaš kredit, jednostavno možete platiti preostali dio koristeći sljedeću Paysafecard karticu. Za jednokratna plaćanja možete kombinirati do deset Paysafecard kartica što vam omogućuje da iskoristite preostali kredit na vašoj trenutnoj Paysafecard kartici.
Paysafecard je jednostavan kao gotovina. Ne trebate bankovni račun ni kreditnu karticu. To je iz razloga što je Paysafecard kartica na bonove koju možete kupiti u lokalnim trgovinama i koristiti ga za plaćanje online transakcija na internetu.
Jednostavno je kao 1-2-3!
To find out more about Paysafecard please visit www.paysafecard.com/pos. The site has multiple languages to choose from.
Kako bi napravili depozit preko svog Paysafecard-a, trebate odabrati Paysafecard iz opcija plaćanja unijeti iznos u Eurima i Vaš bonus kod (ukoliko ga imate).
Nakon toga ćete biti preusmjereni na Paysafecard web stranice gdje trebate unijeti individualni PIN svog Paysafecard. Ovo je vrlo jednostavno - vidjeti na slici ispod: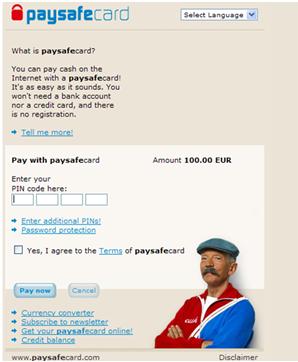 Availability depends on your country