Instrukcje dla Wirecard
Start by going to //www.mywirecard.com/.
Jeśli masz kłopoty ze zrobieniem wpłaty Twoją osobistą kartą Visa/MasterCard a chcesz użyć właśnie tej metody wpłaty, dlaczego nie spróbować Wirecard!
Wirecard allows you to send and receive money worldwide in real time. It's known as a virtual Mastercard that allows you to purchase at millions of internet venders worldwide. It takes around 30 seconds to open a Wirecard account, so you can deposit in EuroKing Casino in no time!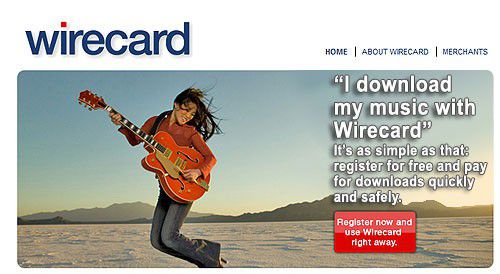 Zarejestruj się
Wybierz opcje "Register Now and use Wirecard right away".
Kraj zamieszkania
Zacznij wypełniając formularz w dane takie jak:kraj, waluta i język, a następnie wybierz "Continue".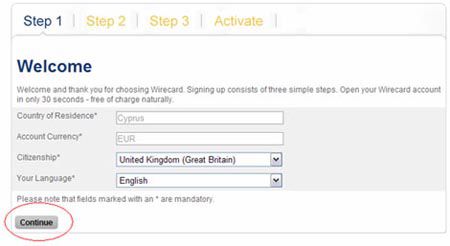 Personal details
Następnie będziesz musiał wypełnić pola zgodnie z prawdą i Twoją wiedzą.
Twój numer telefonu jest jedyną drogą przez którą możesz otrzymać kod aktywacyjny, jeszcze raz pamiętaj, że numer musi być poprawny.
Numer kierunkowy Twojego kraju jest już we właściwym miejscu +357, a więc jedyne co musisz podać to kierunkowy Twojego miasta(bez 0) i numer telefonu. Na przykład jeśli Twój numer to 01628-543533 w takim przypadku musisz wpisać +3571628543533.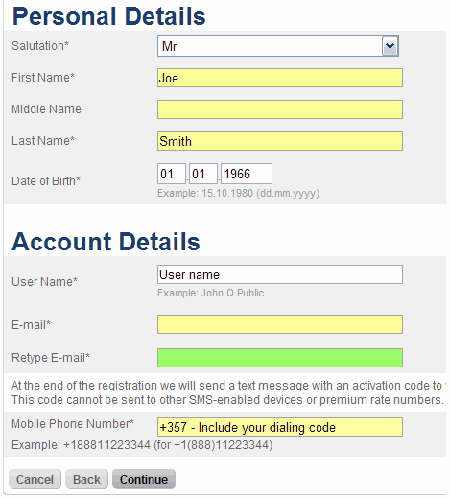 Bezpieczeństwo i warunki korzystania
Tutaj musisz włączyć bezpieczeństwo konta i zgodzić się na warunki umowy/ochronę danych.
Jak tylko przeczytasz i zapoznasz się ze wszystkimi informacjami, wypełnisz formularz w prawidłowe dane wybierz kontynuuj.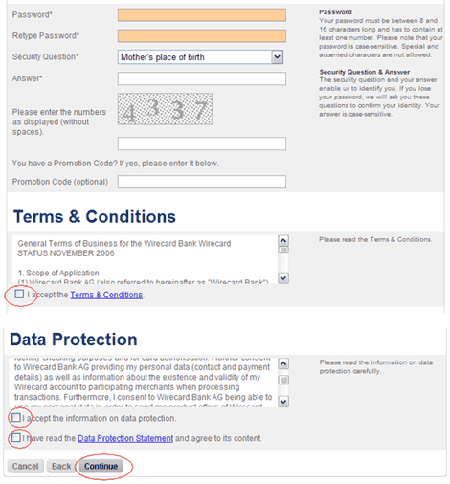 Aktywuj Twoje konto
Przechodzimy teraz do strony aktywacyjnej. Musisz wpisać kod aktywacyjny, który został do Ciebie wysłany na telefon komórkowy jako sms.
Jeśli nie otrzymałeś kodu aktywacyjnego możesz wtedy wybrać przycisk "I received no activation code" I spróbować jeszcze raz.
Lub jeśli zauważyłeś, że Twój numer telefonu jest nieprawidłowy istnieje możliwość zmienić go. Jak tylko otrzymasz kod aktywacyjny naciśnij na przycisk "Activate".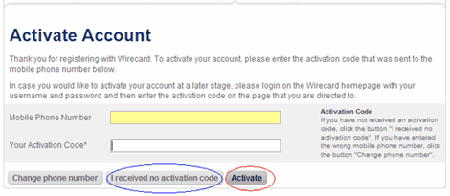 Wpłata pieniędzy
Twoje konto zostało aktywowane i możesz zacząć używać Twojej karty kredytowej do wpłaty.
Wybierz opcje "Deposit Money" aby zasilić swoje konto.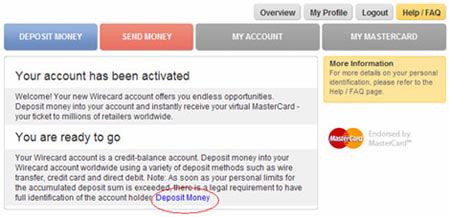 Wpisywanie kwoty wpłaty
Następnie wpisz kwotę jaką chcesz wpłacić. Nie zapomnij, że minimalna wpłata na EuroKing Casino to 20$ więc aktualny kurs musi być wzięty pod uwagę.
Następnie naciśnij przycisk "Continue".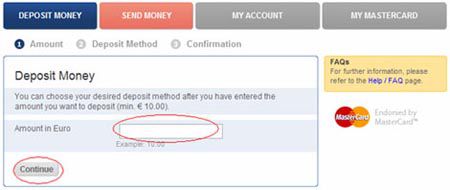 Dodaj nową kartę
Wybierz "Add new card" w celu dodania karty kredytowej.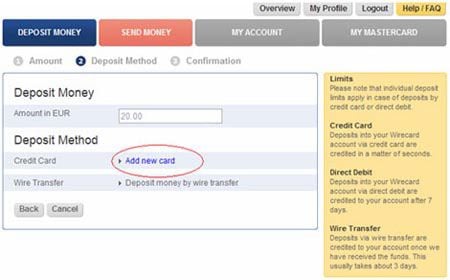 Wprowadzanie szczegółów karty
Wybierz rodzaj karty jakiej używasz i wypełnij w dane Twojej karty kredytowej.
Jak tylko wprowadzisz dane kliknij na przycisk "Continue".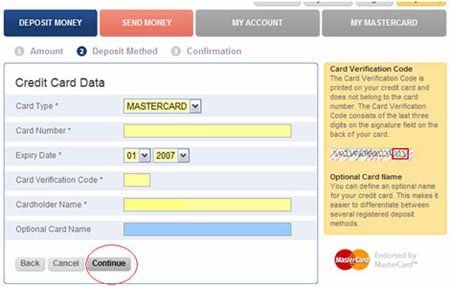 Udana wpłata
Po udanej wpłacie pojawi się ekran potwierdzający.
Aby zobaczyć swoje wirtualne informacje Mastercard musisz wybrać przycisk "My MasterCard".
Twoja wirtualna Mastercard z Wirecard
Ta strona da Ci wszystkie informacje, których potrzebujesz aby zrobić wpłatę na EuroKing Casino.
Jeśli wybierzesz małą strzałkę obok numeru karty Mastercard pojawi się kod weryfikacyjny i data ważności Twojej Wirecard.
Pamiętaj, że Twoja Wirecard posiada już dodane środki, a więc jedyne co musisz zrobić to wpisać poniższe dane w sekcji wpłat Wirecard w programie EuroKing Casino.
Numer karty Mastercard dla Twojego Wirecard
Kod weryfikacyjny (numer CVV2)
Data ważności
Imię i nazwisko właściciela karty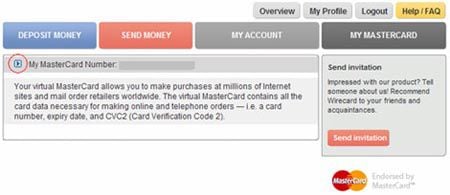 Availability depends on your country