Wpłata przez Paysafecard
Paysafecard daje Ci możliwość wpłaty na EuroKing Casino kiedykolwiek zechcesz. Jest to bezpieczne, szybkie i anonimowe. Paysafecard jest dostępne w wielu różnych miejscach takich jak stacje benzynowe, kioski, sklepy z elektroniką, poczty, księgarnie, banki i wiele innych.
Jest to szybkie, łatwe i bezpieczne. Nie potrzebujesz karty kredytowej lub konta bankowego. Poprzez wybranie Paysafecard otrzymasz najbezpieczniejsze i najłatwiejsze rozwiązanie, a to dlatego, że Paysafecard jest kartą prepaid, która pozwala Ci na płacenie w internecie. Paysafecard może być nabyta na wartość 10, 25, 50 lub 100 Euro.
W przypadku kiedy suma Twojej wpłaty przekracza kredyt na Twojej karcie możesz łatwo zapłacić pozostałą kwotę używając następnej Paysafecard. Możesz zestawiać pojedyńczą płatność używając aż do dziesięciu paysafecard co pozwala wykorzystać pozostały kredyt na danej paysafecard.
Paysafecard jest tak proste jak gotówka. Nie potrzebujesz karty kredytowej lub konta bankowego:
A to dlatego, że paysafecard jest kuponem prepaid, który możesz kupić w lokalnych sklepach i używać do robienia tranzakcji w internecie.
Jest to tak proste jak 1-2-3!
To find out more about Paysafecard please visit www.paysafecard.com/pos. The site has multiple languages to choose from.
Aby zrobić wpłatę używając paysafecard musisz wybrać w opcjach płatności paysafecard, wpisać kwotę w Euro i kod bonusowy (jeśli posiadasz).
Zostaniesz wtedy przeniesiony na stronę internetową paysafecard gdzie będziesz musiał wpisać indywidualny PIN ze swojej paysafecard.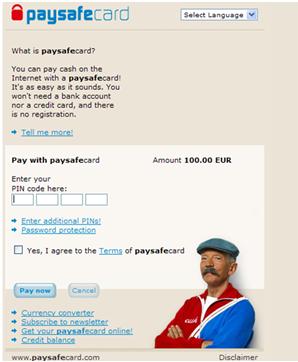 Availability depends on your country